Coldwell Banker Kellie & Associates Real Estate

Specializing in coastal influence acreage, ranches, vineyards, estates and residences, lots and investment property.
Prices on the Central Coast seem to be holding fairly well now, this may be a good time to investigate available real estate, FEBRUARY 2018
2294 Wilcombe Rd




$412,000 - SOLD

Classic Cambria cottage. Very well maintained. Sits on 3 lots, quiet street, nice micro climate zone. Professionally landscaped with lots of terraces, decks and outdoor living. Separate quest cottage. This is a must see very affordable cottage.


Request More Info

Click to view more photos

4005 Burton Dr




$1,600,000 - SOLD


Historic East Village property. Approximately 48,000 sq ft (multiple parcels)land. Approximately 8000 sg ft building formally The Brambles Restaurant. Well known property, centrally located in the heart of Cambria's East Village. 14 commercial EDU water units.
Request More Info

Click to enlarge photo.

White Water view lot in Cambria California




$525,000


Chelsea Lane is a very quiet Cul-de-sac 3 minutes north of the Village of Cambria. The lot has unobstructed white water views of the ocean. This is a unique property, one of only a handful of multi family lots in Cambria with water wait list numbers 3 and 4. For a qualified purchaser the seller may carry back a large portion of the purchase price.
Request More Info
Current Offerings From Our Office:

Residential

Multi Family

Lots & Land
Why is the Central Coast the new "Lost Coast"?
The Central Coast of California is becoming "The Lost Coast" as there are very few coastal communities left in the USA and California that have the charm and purity of Cambria. If you have any interest in owning a little piece of "Paradise" you should act quick, because the Lost Coast is disappearing. Piece by piece, Cambria's precious coast estates are being bought up.
About Cambria
Cambria is surrounded by conservation easements, nature and plenty of elbow room. Cambria is unique and has no condominium projects or apartment complexes. We are basically a single family residence community. A 417 Acre ranch named the East and West Ranch, is located in the heart of Cambria, can never be developed on and has a one mile ocean bluff trail which is awesome to hike. The Coastal Commission is not allowing any sub divisions of property in many areas and the only subdivision ever to happen in Cambria, is Cambria Pines Estates. With no fast food restaurants or big retailers, Cambria is a perfect place to relax and get away.
I would enjoy telling you why I live here and why the central coast and Cambria are so very unique. If you have any questions or interested in Cambria real estate, please
give me a call or email me
Featured Properties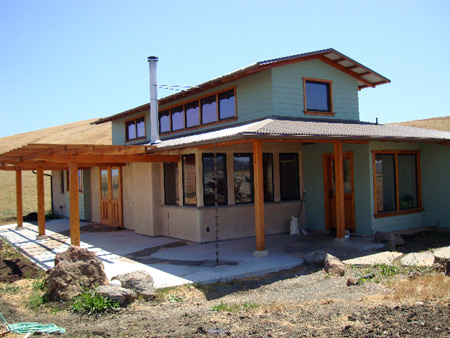 Click to view more photos.
Very unique and extraordinary property 5 minutes from Village of Cambria on Santa Rosa Creek Road. Private and gated 90 organic certified acres. Mostly fenced, permitted bridge over Santa Rosa Creek (property has creek frontage) very good well. Barn with living quarters over and ag processing kitchen below all with solar and PG&E. New straw bail house with radiant floor heating all solar.
FOR SALE - PRICE UPON REQUEST